The Essential Oil Company : Ways to Help Banish Cellulite
Reduce that orange peel......
Summer is coming! it's time to get those legs back into shape. We have found some really cost effective and energy efficient ways to help eliminate ugly cellulite so that you can own smooth & healthy looking legs. No expensive trips to the salon required or over-priced cellulite treatments.....
Anything that can improve skin texture, tone and firm up muscle will improve the enhance your legs and reduce the appearance of cellulite. The first line of defence in the battle against cellulite is to dry skin brush or use a scrub to exfoliate.
New Combined Natural Sisal Brush for Dry Skin Brushing with Cellulite Massager Click to Buy
The natural sisal brush is perfect for dry skin brushing. Every morning or evening before bathing or showering, working upwards from the ankles - use a circular motion and work towards the heart. The art of body brushing will stimulate the skin, sloughing off cells and aid circulation. Brushing with a coarse brush also helps the lymphatic system by drawing out waste that lies in the tissues near the surface of the skin - these waste products can age the body and contribute to cellulite and lacklustre skin. Use on its own or combine with the cellulite massager and cellulite massage oil blend.
The wooden cellulite massager a hand sized wooden massager with rounded wooden nodules set into a rubber cushion. The ultimate "weapon" in the battle against cellulite. Use with sweeping circular motions on affected areas along with the cellulite oil to help improve skin tone and appearance. Cellulite Massager

Cellulite Massage Oil - 100ml - get at those wobbly bits! improve on the performance of massage alone with this special blend of essential oils. Containing juniper, a diuretic known for its clearing, cleansing properties to tone the circulation and detoxify the body; cypress, to tone & firm the muscles; & jojoba to help break down the toxins and those fatty deposits which turn into cellulite. Use alone or with our sisal dry skin brush combined with our cellulite massager, it really, really works! a fraction of the cost of highly priced designer oils. Use in conjunction with our Sisal Dry Skin Brush & Wooden Cellulite Massager

or the new Combined Brush & Massager

Click to Buy

Another battle tool is our DETOX Epsom salts, you can lose up to 5lbs in one bath!,Models such as Heidi Klum and Elle McPherson have been known to have an epsom salt prior to a shoot for this very reason. Our super detox blend contains essential oils to help you detox and tackle cellulite. Epsom salts will draw out excess toxins, smoothe the skin and the magnesium will help you feel refreshed and relaxed and much more..... Click to Buy and Read More!
One of the best exfoliators on the market is dead sea salt scrub voted BEST Body Exfoliator by YOU Magazine, it naturally exfoliates without irritating (and without parabens or SLS). Enriched with Vitamin E which acts an anti-oxidant and therefore has an anti-ageing and healing effect, and the Coconut oil which nourishes and hydrates the skin. Exfoliating and massage has a long list of health & beauty benefits which has been shown to:-
Help break down adipose tissue * Reduce cellulite * Detoxify the body * Increase lymph flow * Improve blood circulation * Speed up cell metabolism and stimulate cell regeneration * Relax the muscles * Soothe nerve endings
Use on dry skin, massage into the body and wash off in the bath or shower. Your skin will be shimmery, soft and glowing.
Epsom Salts have many health and beauty related benefits. The magnesium content in Epsom Salts has been shown to ease anxiety, stress, prevent blood clots, hardening of the arteries, reduce blood pressure, reduce insulin resistance, enhance concentration and raise seratonin levels thus improving sleep and well-being. The sulfates in Epsom Salts are equally as beneficial as they help ease and prevent migraines, flush toxins and relieve aches & pains.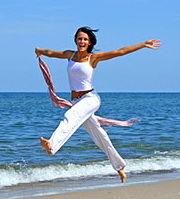 Epsom Salts can soften and exfoliate skin, particularly in hard water areas. Added to a warm bath, Epsom Salts are absorbed into the skin which helps raise magnesium levels in the body.
As Epsom Salts help to detoxify the body, bathing in the salts may be useful for treating cellulite. They can used plain or you can add pure essential oils to them such as fennel, grapefruit (particularly if you have water retention), juniper or cypress or a blend of these oils. Add up to 6 drops of pure essential oils 2 cups of Epsom Salts. Epsom Salts will also soften and smooth the skin and reduce the appearance of cellulite.
Invest in a pair of fit flops too - the most comfiest flip flop on the planet which also helps to tone legs!
Effortless Weightloss! Become a Fat Burning Furnace with Coconoil
What is the one of the healthiest Cooking Oils in the world? 100% Pure Virgin Coconut Oil can be an aid to weight loss. Great for health, hair & skin.
Not all fats are bad! Virgin Coconut Oil can help with weight loss! It increases the body's metabolism and is converted by the liver into energy and not stored as fat. Plus it is the best oil to cook with as it is highly heat resistant and it can boost the immune system, one of the main constituents (lauric acid) is also found in breast milk. It can also be tolerated by those no gallbladders! We recommend eating a dessertspoon a day for good health.
It has an anti-ageing & moisturising effect on the skin and helps to soften and condition the hair. Great as an all over body moisturiser and acts as a natural sunscreen. Fantastic for use in massage - doesn't stain clothes or towels either - just washes out!
It is the healthiest oil on the plant and has miraculous healing properties. Go Nuts For Coconut
Cool Oil has so many benefits we would also recommend it for cellulite and weight control. It has also been shown that EFAs help reduce food cravings.
Cool Oil can also keep you bendy & flexible
Keep your pores unblocked so that you can detox naturally, without the pong! use Crystal Deodorant Stick
a naturally occurring crystal of pure ammonium alum. Used and prized for centuries as a water purifier because of it's antibacterial properties. Using a crystal deodorant stick will help expel toxins from your body but keeping you odour free.

Salt of the Earth deodorants are the all natural alternative to mainstream deodorants, is hypo-allergenic, fragrance free, non-sticky, non-staining, and is made of 100% Ammonium Alum salt with no artificial colouring or ingredients, chemicals or dyes, and contains no aluminum chlorohydrate, helping you stay odour-free, safe and naturally. Also available are detox footpads, detox whilst you sleep! Click to Buy Now!
Bounce Into Shape! We believe one of the best exercises (and energy efficient too) is rebounding on a mini trampoline. Not only does it help to increase bone density but it also helps to push the lymph back up the leg and stimulate the detoxifying process. Plus its gentle on the joints. Just 15 minutes a day can make a huge difference to body strength and the smooth those pins!. Other Benefits of Rebounding can be:
Strengthen muscles, tendons and ligaments,

Help bones become mineralized, dense and strong,

Help develop balance and coordination,

Maintain Homeostasis,

Improve the flow of blood through the small blood vessels of the bones,

Increase the heart's pumping power,

Increase lymphatic system circulation,

Improve efficiency of the immune system.
Drink lots of water! At least 2 Litres a day, more if you are training or if its hot. Water is a fantastic cleanser for the body as it helps eliminate toxins and is very important for the healthy running of the body. Don't wait until you feel thirsty, when you feel thirsty you are already dehydrating. For every cup of tea or coffee you drink, match with an equal amount of water to keep the right fluids up (tea & coffee are diuretics and do not "quench" your bodies thirst or satisfy its need for water). Cut out fizzy drinks, "diet" drinks and sugar-free or "light" products (especially those containing aspartame, nutrasweet or E951*), caffeine. Instead try dandelion coffee, redbush (rooibos) tea which is naturally caffeine free and smoothies, freshly pressed juices or yoghurt drinks - bio live!
* Diet Drinks containing aspartame may make you fatter! and could cause disease-like symptoms. Read this article. and if you are not convinced, try Aspartame (Nutrasweet) Toxicity Info Centre or these articles linked below . Do your own research and make up your own mind. Even some yoghurts contain aspartame - read the labels!
Behavioural Problems? Likely Cause....
Amazing Chillows - Cool: for Hot Flushes & Night Sweats
Effortless Weightloss, Drop a Dress Size quickly!
Go to "Wobbly Bits" section of our shop and find great products to improve skin tone